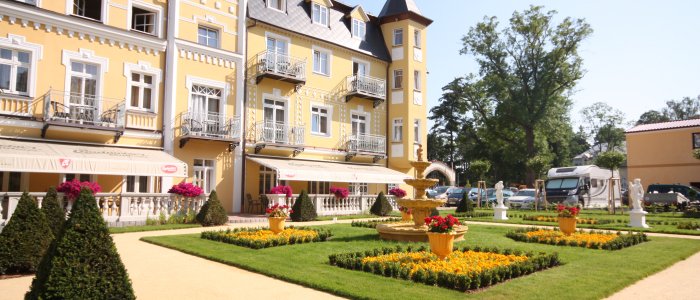 specialization in spa treatment stays

family atmosphere

modern equipment

fully air conditioned

hotel with garden

swimming pools, Fitness, cave wellness, balneology, front desk and health service 24 hours a day, parking
ORDER
The Bajkal Spa and Wellness Hotel is located in the monument zone of the center of Františkovy Lázně, on the edge of the upper spa park, only a few minutes' walk from the colonnade. After a complete reconstruction, this family hotel with its 115 beds offers a wellness weekend, comfortable accommodation and especially spa care in its own balneology facilities using the natural healing resources of Františkovy Lázně in a historic building from the 19th century.
You will find with us excellent Czech cuisine, relaxation in the hotel wellness center including indoor pool, steam sauna, fitness, a unique cave complex with individual procedures. Guests can use the hotel's unique garden with fountains, or the atrium with seating.
The spa town is part of the world-famous spa triangle Karlovy Vary - Mariánské Lázně - Františkovy Lázně. They are characterized by a peaceful atmosphere, a large number of parks and greenery with walking trails, a wide range of healing springs and rest areas. It is therefore ideal for a wellness weekend or long-term spa or wellness stays.