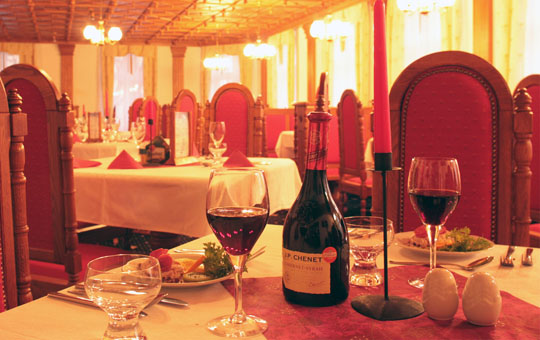 Hotel Bajkal provides a pleasant sitting for its guests in a stylish restaurant, cafe or on the outdoor terraces. Both hot and cold breakfast buffets with a rich selection, as well as lunches and dinners from traditional Czech cuisine are served. There is also a fruit and salad buffet complete with a variety of desserts.
In addition to classic Czech cuisine, our chefs also serve international specialties. In addition to traditional preparations, we also use an open barbecue workplace. We also offer a wide range of diet dishes, salads, as well as a very popular dessert buffet for afternoon coffee.
In addition to traditional Czech beer and a wide selection of Moravian wines, the drinks menu also includes many types of soft drinks, including teas and coffees. Local mineral waters are also served. Our guests have a guaranteed firm place in the restaurant throughout their therapeutic stay.